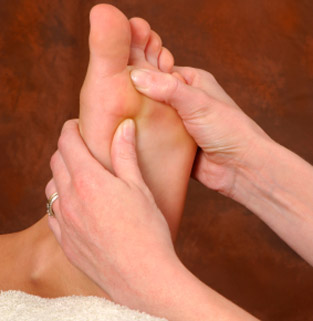 For both fertility and maternity, I start with Basic Reflexology. Building from that foundation, I will add techniques and approaches that are specifically geared to the needs of your body. These techniques include reflexology endocrine balancing; lymphatic drainage technique; relaxation; as well as addressing the structural aspect of the feet.
For fertility projects, we will focus on deep relaxation and creating the conditions for making pregnancy possible. Attention will be given to the female endocrine system - however it expresses itself. This work can be done whether or not you are currently taking fertility medication because the approach offers support to whatever is going on in your body.
Foot reflexology is proving to be very helpful for women to conceive as well as to maintain a full term pregnancy. Over the years, I have worked on numerous women who were able to find time for personal relaxation and balancing through reflexology, and go on to conceive and maintain a full term pregnancy.
For maternity projects, the focus is on wellness for you and the developing fetus. Each trimester has a unique approach. We will address the hormones of pregnancy; the rhythm of the trimesters; the biomechanics of the feet during pregnancy; the challenges of pregnancy; stress and anxiety; as well as preparing for birthing and the postnatal period.